Fayetteville's multimodal transit center set to open in January
September 18, 2017

Posted by:

admin22

Category:

General Construction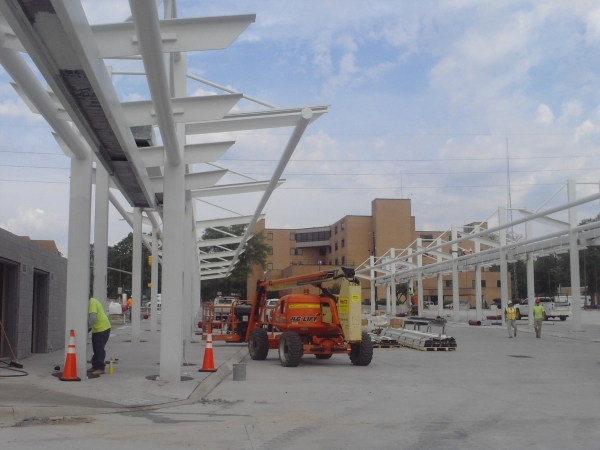 After more than a decade of planning, Fayetteville's new transit center is taking visible shape downtown.
After the Fayetteville City Council awarded an $11.6 million construction contract in August 2014, the project ran into delays that saw the budget increase by about $400,000.
Now, the new bus transfer and ticketing hub for the Fayetteville Area System of Transit is scheduled to open in January, said the city's transit director, Randy Hume.
The once-controversial site is along Robeson and West Russell streets, across from Highsmith-Rainey Specialty Hospital.
The construction is the biggest public investment downtown since the N.C. Veterans Park opened in 2011. The transit hub caps the city's aggressive efforts over the past several years of adding and extending bus routes and operating hours, improving on-time performance and buying a fleet of new vehicles.
And it will be truly "multimodal," with the city renting space to two private bus companies: Greyhound and Megabus. Short-term parking will be added along West Russell Street for taxis, and passengers need walk only one block – two street crossings – to reach the Amtrak train depot.
The incomplete transit building rises over two stories and will have walls of glass and gray, metal panels. About 30 workers are welding, digging and hammering away. They are using lifts to hoist into the ground galvanized steel towers for the bays where the buses will park and the passengers wait under canopies.
"It's looking good," Hume, wearing a hard hat, said from the fenced job site Thursday. "We are wanting to get into it."
The modern hub will replace the city's "temporary" bus transfer site, which consists of little more than a parking lot, some bus shelters and a doublewide trailer on Old Wilmington Road about a mile away. Inside the trailer, the waiting room is packed, and the bathrooms are cramped.
Each month, FAST buses ferry about 130,000 passengers – a figure that counts the same riders more than once when they hop onto different buses to reach their destination.
Read More